Orriss and Son Hot Sauces
Orriss and Son are a local hot sauce company, created by David Underwood. David brought over 20 years of experience as a chef to his creation of these hot sauces, which bring a depth of taste to transform a simple meal into a culinary experience.
Orriss & Son - Fresh Tendrils 125ml (not organic)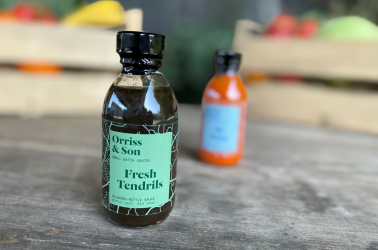 Click image for more details
JALAPEÑO/NETTLE SAUCE
GENTLE HEAT, BIG TANG
(125ML)
If you're chasing a vibrant acidity, this green Jalapeño / nettle sauce, 'Fresh Tendrils' can provide the lift to a dressing or cut through a long cooked or braised number.
INGREDIENTS
GREEN JALAPEÑO JUICE, GREEN PEPPER JUICE, APPLE JUICE, CIDER VINEGAR, FERMENTED GREEN CHILLI (CHILLI, VINEGAR, SALT), SUGAR, NETTLES, GUAR GUM (0.25%), MINT
Orriss & Son - My Wave 125ml (not organic)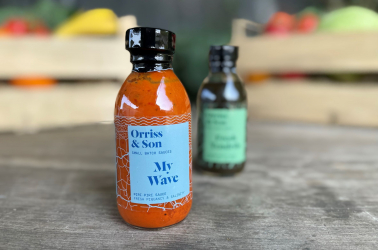 Click image for more details
PIRI-PIRI SAUCE
FRESH PIQUANCY & SALINITY
(125ML)
If it's a tangy salinity you're after to elevate your cooking, the Piri-Piri style 'My Wave' can take you on a journey to a rugged Atlantic coastline.
INGREDIENTS
RED CHILLI JUICE, RED PEPPER JUICE, TOMATOES, FERMENTED RED CHILLI (CHILLI, VINEGAR, SALT, BAY LEAF, LEMON, GARLIC), CIDER VINEGAR, OLIVE OIL, SUGAR, MAPLE SYRUP, GUAR GUM (0.25%), DRIED RED CHILLI