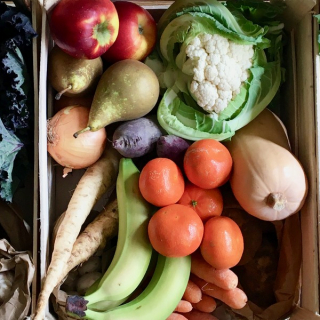 Which veg box are you?
We all cook and shop for food in different ways. At Cambridge Organic, we offer three different types of veg box to match the way you cook. Which one are you?
Select the full contents of your veg box each week using our easy points system.
Great if you:
Plan your meals ahead
Want to know what you're getting in advance, so can shop around your box contents
Have a restricted diet or a number of strong likes and dislikes
How it works:
Choice boxes provide a link on your basket page to 'Select your box items'. It takes you to the list of what's available for the coming week.
Each size of Choice box allows you a certain number of points. Simply add what you want until all the points for your size of box are used up. We'll pack exactly what you ask for.
You can find out more about our points system here.
Choice boxes also provide a second link to 'Manage your preferences'.
With Choice boxes, you can set up both likes and dislikes (maximum of eight of each).
These permanent preferences act as a back-up
if we are out of stock of something you've selected, they guide us in what to substitute;
if you forget to select, we'll pack your box by following these preferences.
It's not for you if:
You want the surprise and challenge of receiving a selection of veg that inspires you to try new recipes. Best to try Original or OriginalPLUS+.
We pack a selection tailored to your likes and dislikes.
Great if you:
Want the surprise and challenge of a great selection of produce
Have things you really don't like (maximum of 3)
Want a tailored veg box that arrives without having to go online each week
How it works:
OriginalPLUS+ boxes provide a link on your basket page to 'manage your preferences'. You can set up 3 items to exclude permanently.
You can update your preferences whenever you need to.SHOP OriginalPLUS+
It's not for you if:
There are more than 3 things you can't eat: best to try Choice.
You're completely relaxed about what you get: best to try Original.
Our best-selling, best-value and most sustainable boxes. A great range of veg (and fruit if you like), selected by us but with no options to customise. 
By allowing us to make the selection, you save money, while we save on food waste.
That doesn't mean that Original boxes contain sub-standard produce rejected from the other boxes: on the contrary, they are put together from the same great, fresh batch of fruit and veg. But as our skilled packers can decide the combination, they can manage the produce we have to hand so that very little goes to waste.
If you'd like to know more about our approach to reducing food waste, see 'Who we are'.
Great if you:
Want our best-value selection of produce
Don't have strong likes and dislikes
Want the most sustainable option by letting us decide the contents to make sure nothing is left at the end of the day
How it works:
Original boxes don't allow customisation, so there are no preferences to set up. You only need to go online if you want to add extras to your order or cancel a delivery.
Not for you if:
You want more control over what you get. Best to try OriginalPLUS+ or Choice.