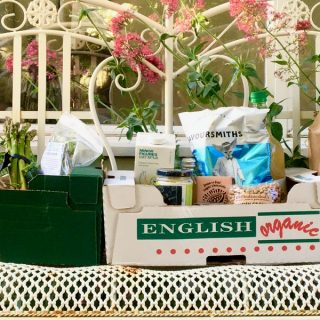 A member not a customer
We describe the people who have a regular veg box delivery as members, not customers.
We hope that, like so many of our members, you'll be with us for many years: what do you need to do to administer your deliveries as time goes by?
Becoming a member of our veg-box service is different to shopping for other items over the internet. It's not a one-off purchase, but the start of what we hope will be a long-term relationship.
Once you're a member of our veg-box service, we'll deliver your veg box each week or fortnight until you tell us you'd like to pause or stop your deliveries.
As a member, what do you need to do to administer your ongoing deliveries as time goes by?
The number of times you'll need to visit our website to take care of your order depends on the type of box you've gone for.
You'll need to make your selection ahead of each delivery. The new list is published early each Saturday and you have until 5pm on the day before your delivery to make your selection. If you don't select, we'll put together a selection for you based on your permanent preferences.
Once you've set up the three things you'd like to exclude, you don't need to do anything, unless you decide you need to update them.
There's no option to alter your box from one week to the next. You can just sit back and enjoy your veggies arriving at your door without you having to do anything.
Adding extras to your order
We offer a wide range of groceries to add to your veg-box delivery. The majority of these are produced by our Cambridge Food Hub partners: these are local companies we have a close relationship with. When these products are not organically certified, they will be clearly labelled as such. 
You'll need to visit the website to add products to your order. You can add them for a specific date, or on weekly or fortnightly basis, so they arrive with your veg box automatically from then on.
Cancelling a delivery
You're free to pause your delivery whenever you need to, as long as you do it by the deadline of 5pm on the day before your delivery. 
Obviously, you'll need to cancel ahead of any holidays or other time away, but you can also skip a delivery if the fridge is still looking a bit full from last week, or if your diary promises a week ahead with lots of nights out.
Just click on 'Pause a delivery' (you'll be prompted to log in if you aren't already). If you're away for more than one week, select the last week you want to miss.
Cancelling your membership
To cancel your membership altogether is easy: you can either contact us to let us know and we'll sort it out for you. Or you can go to your basket and click on 'Permanently remove all items from your order' and follow the instructions. If your account is owing some money, you'll need to contact us so we can arrange payment of the final balance.
Please complain! (So we can fix it)
Please let us know if there's anything wrong with your delivery so we can put things right.
Although our packers pride themselves on the care they take over putting together your order, we all make mistakes. Please let us know if something is missing which you ordered or selected as part of your box. And please let us know if you receive something you've excluded.
As we pack your box, we try to grade out any produce that isn't of good quality, but things can get past us, so please let us know if you're unhappy with the condition of anything in your box. Although organic produce doesn't have the – perhaps unnaturally extended – shelf life of most supermarket fruit and veg, we don't want you receiving items which are already a bit mushy, wilted or yellowing, so if you do, please let us know, so we can replace them.
Please return your empty box!
We rely on you returning your empty boxes to pack new veg boxes. Please return your box each week. If you're not going to be in, please leave the empty box in the place you've asked us to delivery your new one. If that place is uncovered, and it's likely to rain, please cover it to stop if getting wet.
We hope to welcome you as part of our community. 
Our members are from diverse backgrounds, but share our belief in the importance of local, organic food. 
For more on what makes us tick, have a look at 'Who we are'.