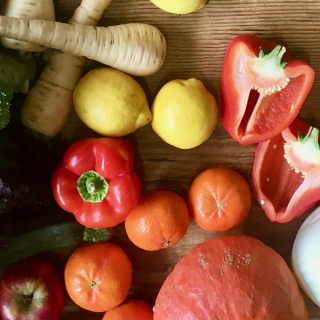 Choose Cambridge Organic
We deliver organic veg boxes to the Cambridge area with produce sourced from local farms. You can select what you get in your box each week – or rely on us to put together a great selection.
#2 Customise
Either select what you get or set up your preferences.
#3 Add any extra items
Add groceries or extra produce to your veg box.
C O R E V A L U E S :
COMMITTED TO LOCAL • CONTROL WHAT YOU GET • COLLEAGUES WHO CARE • CONNECT WITH LOCAL FARMS • CONTAMINANT-FREE PRODUCE • CONSIDERATE EMPLOYER • COOK MORE VEG • COMBAT CLIMATE CHANGE • CONSIDERABLY TASTIER • CONSERVE RESOURCES •
We hope you enjoy using our new website and find it easy to use. Please let us know if you find anything that doesn't work!
We've tried to get the new website up and running as quickly as possible, so members old and new can get the benefit of it. It's still a work in progress: there are some pages, which are still to come, but their absence won't affect the functioning of the rest of the site.
For existing members, the big change you'll notice is that you no longer need to checkout your Choice box selection. Your selection is stored as soon as you make it. The 'Confirm your order' button is only enabled when there are changes you need to save, so it's not there if you have only selected your Choice box and not added or subtracted any other products.
Once you are logged in, the Account icon and the Orders icon at the top of the page will take you to all the functions you need.
If you have added or subtracted any products, don't forget to go to your Orders page to confirm your changes.  
Veg-box delivery is free:
including the groceries you add to your box
Just tell us where to leave your veg box
No hassle direct debit