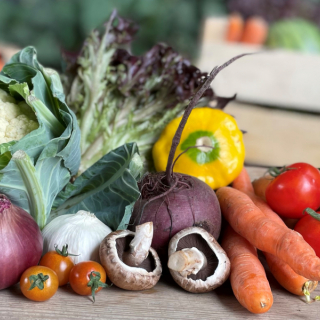 Our Sourcing Policy
The following are key principles of our buying policy:
All of our produce is certified organic. The only exceptions are a small amount of produce from Audley End, which is grown to organic standards but as it is grown in pots in their greenhouse rather than in the ground, cannot be certified organic. This produce will always be accompanied by an explanatory slip in the veg boxes.
No produce is airfreighted.
No produce is grown in a hot-house.
Beyond this framework we follow a buying hierarchy:
Buy directly from local and regional farms for produce that can be grown in the UK. The farms with which we have a direct trading relationship are all located in Cambridgeshire and its neighbouring counties of Norfolk and Suffolk.
Buy from our wholesalers (Phoenix Organics and Be Organic) for produce that can be grown in the UK.
When UK produce is in short supply, for example during the 'Hungry Gap', we will buy produce from Europe which could be grown as a main crop in the UK at other times of year. For example, onions, apples.
We also buy produce from Europe which is not a main UK crop or cannot be grown in the UK. This tends to be fruit, for example citrus fruit, avocados, kiwis.
We buy very little produce from outside of Europe. One main exception are bananas, a staple item that is very difficult to source from within Europe. Our bananas are Fairtrade, as well as being certified organic.
Policy impact and review:
In order to maximise the impact of our buying policy we will keep it under annual review, and ensure that staff and customers are aware of this policy. We will always strive to improve on our current policy where possible and as contexts change.
Our Buying Policy draws on the example of Growing Communities.