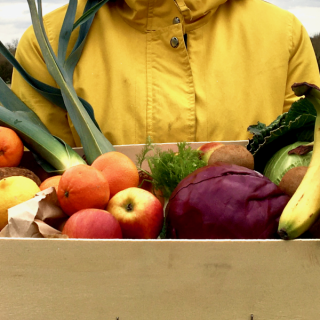 Why Cambridge Organic?
We're the local vegetable people
We deliver organic veg boxes to Cambridge and the surrounding area - but what makes us different?
We collect produce from a group of local organic farms to make up our veg boxes. That's unique in this area.
We also keep our delivery area local to Cambridge: we don't want to spread ourselves too thinly! If you live in Cambridge, Ely, Huntingdon, St Neots, Royston, Saffron Walden, Haverhill, or the surrounding villages, we're the vegetable people for you.
Check if we deliver to you
We've always thought you should be able to decide what goes into your veg box: we don't want to lumber you with food you can't eat. Our unique Choice range of boxes allow you to select the contents of your box each week. That's a level of service no other veg-box company can match.
We also get that for many the joy of a veg box is the surprise of what turns up: lots of our members relish the challenge of exploring new recipes inspired by the veg in their box. We therefore offer other boxes where we make the selection for you. 
Our OriginalPLUS+ boxes allow you to tailor the surprise with any dislikes you have. With Original boxes, no preferences are allowed, but you save money, while we reduce food waste by being able to manage the produce we put in.
Ready to give it a go?
Weekly or fortnightly deliveries: 
Easy to pause when you're away
Veg-box delivery is free:
including the groceries you add to your box
No commitment: cancel your membership at any time