If you are a new customer looking to set up an account and experience problems setting up the direct debit please Contact us.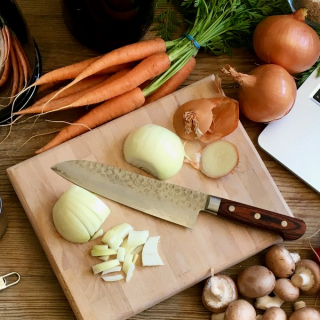 FAQs
We've brought together some of the most common questions that crop up about the way our veg-box service works
I cancelled my box for this week but have still been charged. Why has this happened?
We always take payment a week in arrears. We start the payment process the day after your box has been delivered, so we can ensure you are only charged for the things you received. It then takes a few working days to come out of your account. This means you'll see the payment on your bank statement about a week after you received the box. So, if you cancelled your box for a given day but still see a payment on your account, that's the payment for for the previous week's box. You should see that no money leaves your account the week after you paused your box.
I've made my Choice selection, but I can't checkout my basket. Is everything OK?
Existing members will be used to making their Choice selection and then going back to their basket to checkout their order. You don't need to do that with the new website. Your choice selection is saved as you make it. Because you haven't added or removed any products, the website doesn't consider you've changed your order so it doesn't give you the 'confirm' button in your basket.
We realise that this means that the system doesn't automatically send you an emai confirming what you have chosen. I've asked our developer to add a button to request an email summary if you'd like one, but that is yet to be done.
I've not selected my Choice box this week, will I still get my box?
Yes, if you don't select the contents of your Choice box, we'll put together our own selection, based around any permanent preferences you've set up. That's one reason it's a good idea for Choice members to set up some permanent preferences as a back-up.
I've missed the deadline for my Choice selection, can I still choose what I get?
Yes, please contact us and we'll do our best to get you what you want. After the 5pm deadline, you won't be able to access the page to select your contents, but you can see what's available this week from the product groups where you can add fruit and veg to a box. Please either email your list overnight or give us a ring in the morning, when we can run through the list with you and make a note of what you want.
I'd like to try a one-off delivery before committing as a member: can I do that?
Our website is set up to let you create and administer a regular veg-box delivery: it will not let you check out an order without a weekly or fortnightly veg box in it. If you would like to try just one delivery, you have two options:
All members can cancel their deliveries whenever they want to: there's no minimum commitment, so you can easily set up a weekly or fortnightly delivery and cancel your membership after your first delivery, if you decide you don't want to carry on. 
If you're sure you want only one delivery, you can let us know in advance that you want to cancel your membership after the first delivery and we can set that up before your box is delivered.
What's the latest I can make any changes to my order?
The deadline for all changes is 5pm on the day before your delivery. This applies to selecting your Choice box contents, adding or removing products to your box, or pausing your delivery.
I'm going on holiday, how do I pause my deliveries?
It's easy to pause your deliveries before you go on holiday. Just click on 'Pause your delivery' (when logged in). Click on the dates you want off and then press the 'save' button at the bottom of the list.
You can pause your deliveries as often as you need to: not just if you're going away, but if the fridge looks a bit full from last week. We want to be flexible and make sure you don't have to waste any of the food we deliver.
I need to cancel my membership, what do I do?
It's easy to stop your deliveries all together: just go to your Orders page and click on 'Permanently remove all items from your order' and follow the instructions.
If your account isn't paid up-to-date, you'll need to contact us cancel your membership. Or you might prefer to do that anyway, so we can process your request and if your payments aren't up-to-date, ask you for the final balance.
I'm moving within your delivery area, how do I change my address?
Just get in touch to let us know (either send an email or use the contact us function). We'll update our records and tell you which day we'll deliver to your new address. The 'Change details' function on the website doesn't allow you to change your address, but does allow you to update where you'd like your veg box left at your new home.
I've pressed the 'Checkout' button more than once, will I get multiple orders?
No: the checkout button just saves any changes you've made to your order. You can update your order as many times as you wish up to your ordering deadline. Each time you check out, you save any changes you've made, just like saving a document, but you don't produce multiple orders.
How can I find out what's in my box this week?
With our Choice boxes, you can not only know in advance what's coming in your box, you can also select exactly what you want from the list of what's available this week. 
With our other boxes, we don't publish a list of what's in each box for the very simple reason that we don't know in advance. Our skilled packers put together different combinations for our Original and OriginalPLUS+ boxes, so as to provide variety and interest in each box, while making best use of the stock available to minimise any wastage.
What can I expect in the Original and OriginalPLUS+ boxes?
While we don't pack each and every Original and OriginalPLUS+ box to the same list, we do have some staple items which are in these boxes each week (with the exception of when there are supply issues).
Giant boxes contain large portions of each of the four staple items: 1.2kg potatoes, 750g onions, 750g carrots (or one bunch in season), 200g mushrooms. PLUS about 9 other large veg portions which vary each week and with the seasons.
Large boxes contain the same large portions of each of the four staple items: 1.2kg potatoes, 750g onions, 750g carrots (or one bunch in season), 200g mushrooms. PLUS FIVE other large vegetable portions which vary each week and with the seasons.
Medium boxes contain the medium portions of each of the four staple items: 800g potatoes, 500g onions, 500g carrots (or one bunch in season), 125g mushrooms. PLUS two large vegetable portions and two medium ones which vary each week and with the seasons.
Small boxes contain small portions of only two staple items: 400g potatoes, 250g carrots. PLUS one large vegetable portion and three medium ones which vary each week and with the seasons.
The staple portion sizes may vary at times of the season (eg when new potatoes are very expensive, the portion size might be less), and there may be times of the year when one of the staples isn't available.
You describe the sizes of boxes in points: what are they? What's the point of 'points'?
We want to make sure that each size of veg box has the same value of produce in it every time, even though their contents change from week to week. But the price per kilo (or per item) of different veg and fruit varies enormously. We therefore measure our portion sizes using a system of points, so that we know how to compare items which cost different amounts. We use an item's cost price to decide how many points it's worth.
Our points system is essential for our Choice boxes. Each veg or fruit item is assigned a number of points (typically one, two or three). Each size of Choice box allows you a certain number of points.  Choice members select their items to use up all the points allowed for their size of box. 
Where different weights of produce are possible, we offer different portion sizes with different points-values, so you can select exactly the amount you want.
For OriginalPLUS+ boxes, where you can set up items to exclude, we make sure that anything you exclude is replaced with something of equivalent points-value.
One point does not equal one vegetable item.
Our medium-sized portions are 2 points.
Examples: 500g onions/carrots, 125g mushrooms, 250g tomatoes/courgettes.
Large portions of veg are 3 points. 
Examples: 750g onions/carrots, 200g mushrooms, 375g tomatoes/courgettes.
Many single higher-priced items are also 3 points
Examples: a cabbage, squash, aubergine, bag of salad or spinach.
For example, OriginalPLUS+ and Original Medium Vegetable Boxes contain 18 points, but that doesn't equate to 18 different items. Instead, they contain 8 different types of veg. We use a fixed template of two and three-point items to create a box with a good balance.
What happens if you're out of stock of something I've asked for?
While we try to fulfil each order in full, there might be times when we don't have something you've requested. Sometimes, a farmer's expectation of how much of something he or she will be able to harvest turns out to be wrong (often because of the weather!). Sometimes, there are other supply or quality issues.
If you've requested something within a Choice and we don't have it, we'll substitute something of equal points-value. We'll be guided by your permanent preferences to put in something you like (and avoid what you don't like).
If you've added an extra item to your veg box and it's out of stock, we'll take the charge for it off your bill before we ask for your payment. This applies to both fresh and grocery items.
Can I put together an order without a veg box in it?
No: each delivery must have a veg box in it. The price of the veg box factors in the cost of packing and delivering your order. That's why we can offer free delivery on anything you add to your veg box.
I want to have veg boxes delivered, but I don't have a bank account: can I still join?
We are an inclusive company who believes that everyone has the right to high-quality, nutritious food, whether or not they have a bank account. We therefore offer alternative payment options for people who don't have one (or have an account, but don't want to use its details online). Please contact us if you would like us to create an account for you to pay by cash or cheque on each delivery. We'll need to create the account for you rather than you signing up yourself on the website.