Hot Numbers Coffee
Hot Numbers Coffee Roasters are an Independent specialty coffee company. They roast selected coffee at their Roastery in Shepreth.
Hot Numbers Coffee (CAFETIERE) 250g (non-organic)
Hot Numbers Coffee (WHOLE BEANS) 250g (not organic)
Hot Numbers Coffee DECAF (WHOLE BEANS) 250g (not organic)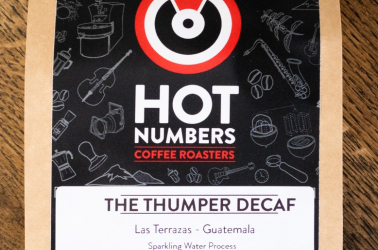 Click image for more details
Hot Numbers Coffee 250g DECAF WHOLE BEANS (not organic)
"We sell a surprising amount of decaf coffee at Hot Numbers because it is incredibly good!
The decaffeination process removes caffeine from the green bean before roast. At Hot Numbers, we only source high quality decaffeinated coffees that use natural methods to extract the caffeine, such as sparkling water and CO2 processes. We believe these are much more appealing than the alternative chemical processes used.
It is often indiscernible that you are drinking a decaffeinated coffee and at times our staff have genuinely preferred the decaf coffee to its caffeinated brothers and sisters
Rest assured that at Hot Numbers we always take decaf seriously. We invest in high quality green stock, sourced from our trusted suppliers and farms and roast with the same level of detail we apply to all our other coffees. This is the reason that again and again our decaffeinated coffee doesn't hang around long and is as popular as any other coffee, just without the caffeine buzz. Enjoy!
The current rendition of our Thumper Decaf is from a farm called Las Terrazas from the Huehuetenango area of Guatemala. Owned by Renardo Ovalle Vides since 2012 he has grown a number of different varietals with Caturra, Bourbon, Typica and Pache included in this particular coffee.
Tasting Notes: Brown Sugar, Apple, medium bodied"