Bio-Bean Coffee Logs
Recycled fuel logs made from the spent coffee we collect from local cafes.
Bio-Bean Coffee Logs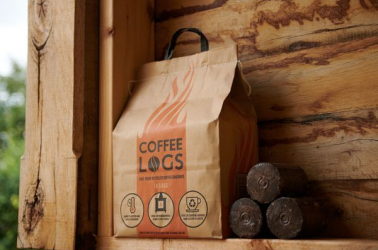 Click image for more details
Bio-Bean Coffee Logs: pack of 16
Coffee Logs are eco heating briquettes for woodburners, stoves and open fires, made from your waste coffee grounds.
The Cambridge Food Hub's Green Coffee Shop Scheme collects the spent grounds from local coffee shops and transports them to Bio-Bean's facility in Alconbury. While we're there, we pick up bags of coffee logs to sell to you.
Each year Bio-Bean recycles thousands of tonnes of waste coffee grounds, not only from our collections in Cambridge, but from coffee shops, cafés, offices and transport hubs around the UK. Recycling coffee helps reduce greenhouse gases, diverts waste away from costly landfill and gives your latte a useful second life.
Each carbon neutral Coffee Log is made from the grounds of 25 cups of coffee and burns 20% hotter and longer than kiln-dried wood. And recycling coffee waste generates 80% less emissions than if the grounds are sent to landfill.